Saturday, November 28th, 2009
---
3:48 pm
- ebay sales
Thursday, November 5th, 2009
---
7:08 pm
- Ordination
OK don't laugh. Some of you know I was a Religion major in college. This makes me a vessel of useless knowledge. I have been a counselor for many years. Unfortunately, by working within a huge bureaucracy, has made it difficult to continue in this capacity. That and being assaulted by my students. So I have become an ordained minister through The Universal Life Church. It seems fitting for me for now. With my ordination, I can perform legal marriages, funeral services, civil unions, baby naming ceremonies as well as other services. I look forward to actually using my undergraduate degree.
Oh yeah, seems I'm going to hook up with a producer or 2 so I can work on my music without wanting to throw my computer out the window. I think I'll throw a gospel tune on the album. It's only fitting right?
And for those of you who don't know, I have started a blog called Whips and Kisses. Check it out at http://whipsandkisses.blogspot.com/
Sunday, May 3rd, 2009
---
12:43 pm
- Clothes and stuff for sale- before I put it on ebay
All clothing is Lip Service. New items added. If you don't like a price, please make an offer!


(

Lookie hereCollapse

)


Thanks for looking!
Friday, May 1st, 2009
---
8:43 pm
- The Wolverine movie was pretty good and other ramblings
There's a whole lot of shit I do not remember from the comic books. I'd probably be bitching about the movie if I did. But even so, I still liked it. If you didn't, I don't really care. Thanks.
On an unrelated note, I'm going to be starting the P90X workout system soon. After 2 problems buying it on ebay, I caved in and bought it from the company. If you're thinking about getting this, keep in mind you need weights and either a pullup bar or resistance bands you can hook up somewhere to give you the same kind of effect. I also had to get mats for the floor so my downstairs neighbor doesn't hate me on days I do plyometrics.
And on another unrelated note (although some of you comedians will find a connection) I am back on steroids (prednisone) because allergy season has made my asthma get completely out of control. It reminds me a lot of the bronchitis I had last year and how scared I was that I had so much trouble breathing.
Well that's about it. Oh yeah, I miss New Orleans again because Wolverine goes to NOLA to find Gambit. Now to talk Sean into another trip.

current mood:
hopeful
Thursday, April 9th, 2009
---
7:38 pm
- See you in NOLA
Thursday, April 2nd, 2009
---
7:02 pm
- NOLA!!!!
Only one more week until we're in NOLA. I so cannot wait!
Sunday, March 15th, 2009
---
7:52 pm
- Today is Kiara's 10th birthday
So Sean and I invited Grandma and Grandpa over along with Uncle Gregg and Aunt Janine. I cooked all day long for the humans. So yes, those are bags under my eyes.

Kiara was very happy. She got lots of presents. She wasn't exactly thrilled wearing her party hat but she did it just to appease the rest of us. She's an amazing animal. If you haven't gotten to know her, you really are missing out. Take a look at the birthday girl. And check out the booty she got. That wasn't even all her toys and treats. There's more laying around somewhere. She is now passed out at my feet. Too much excitement for the big baby.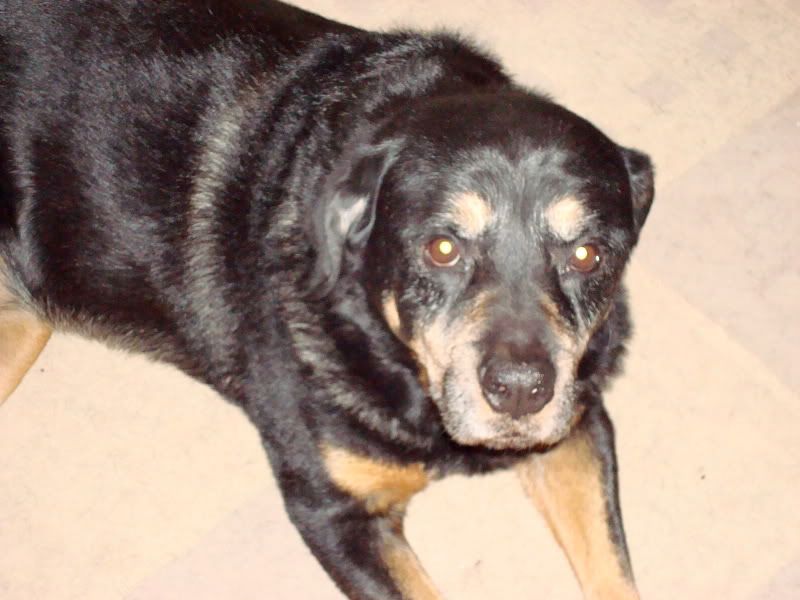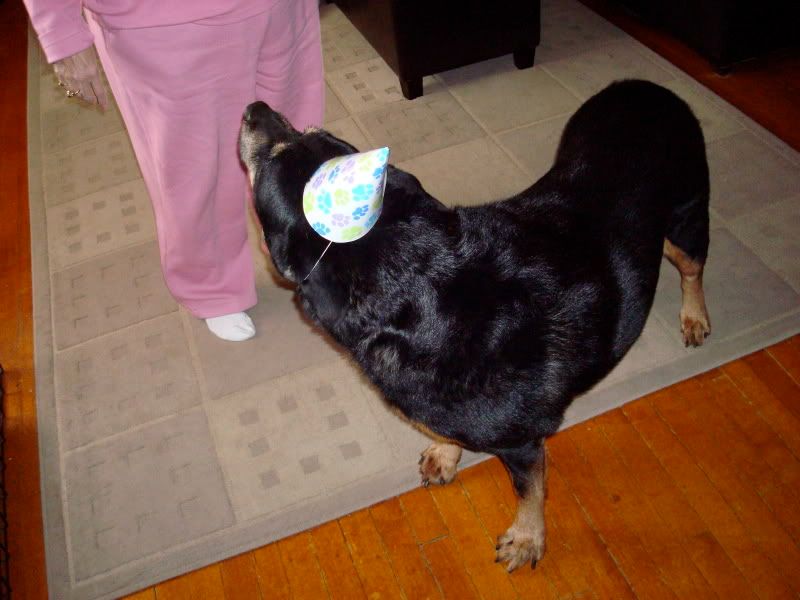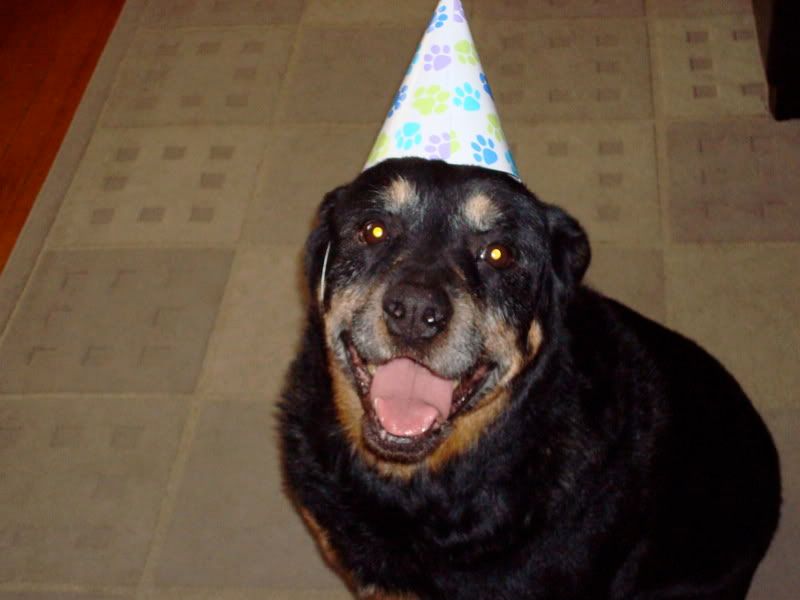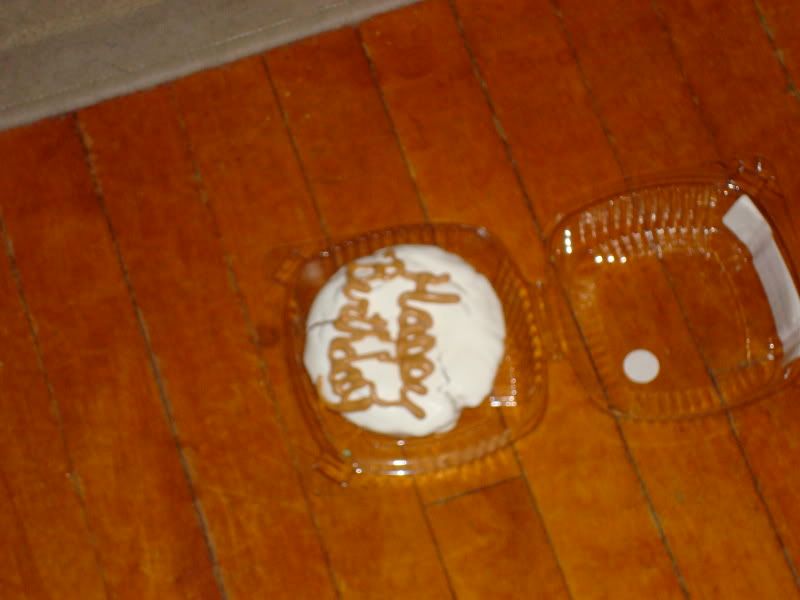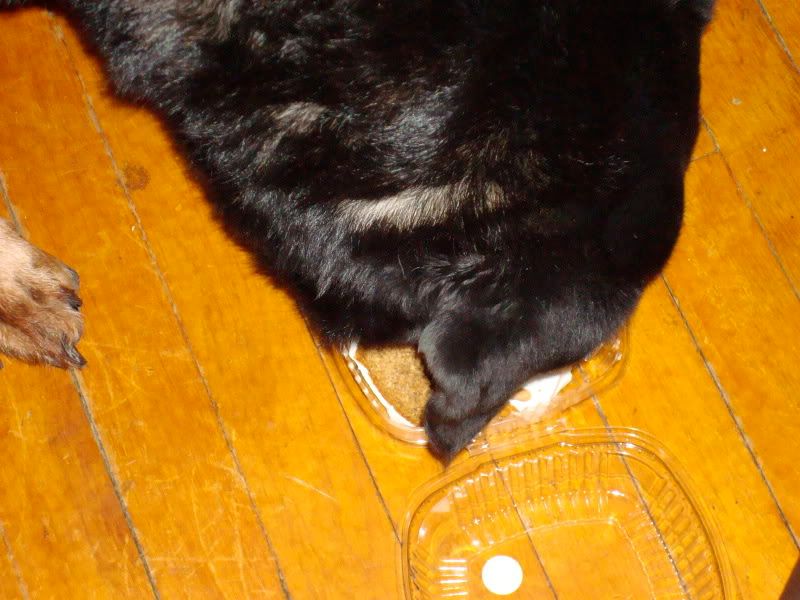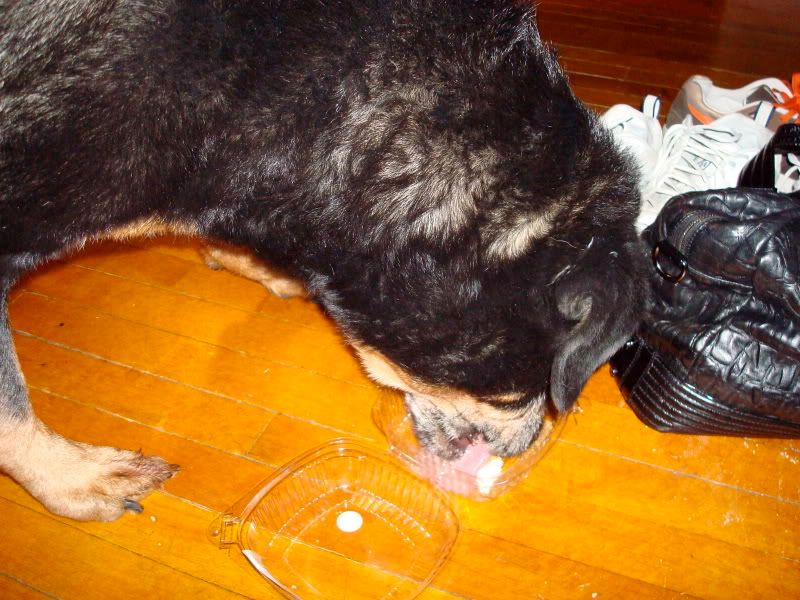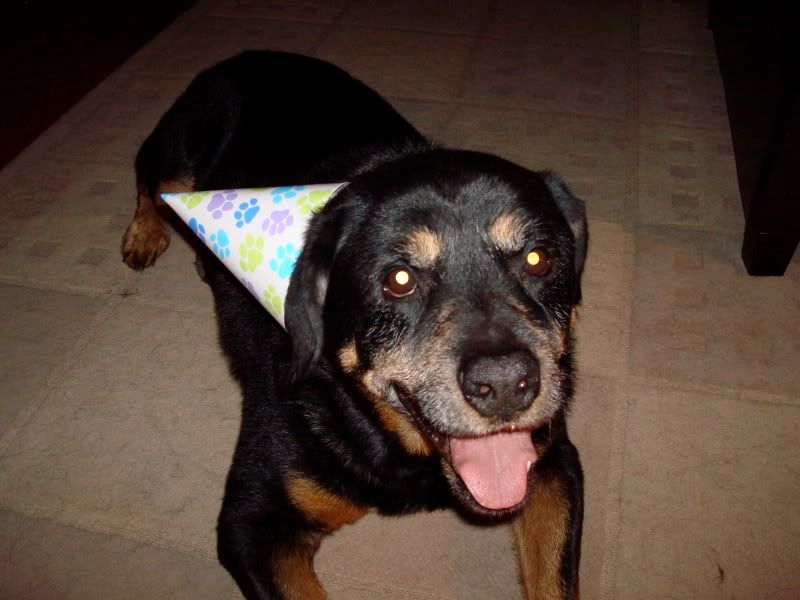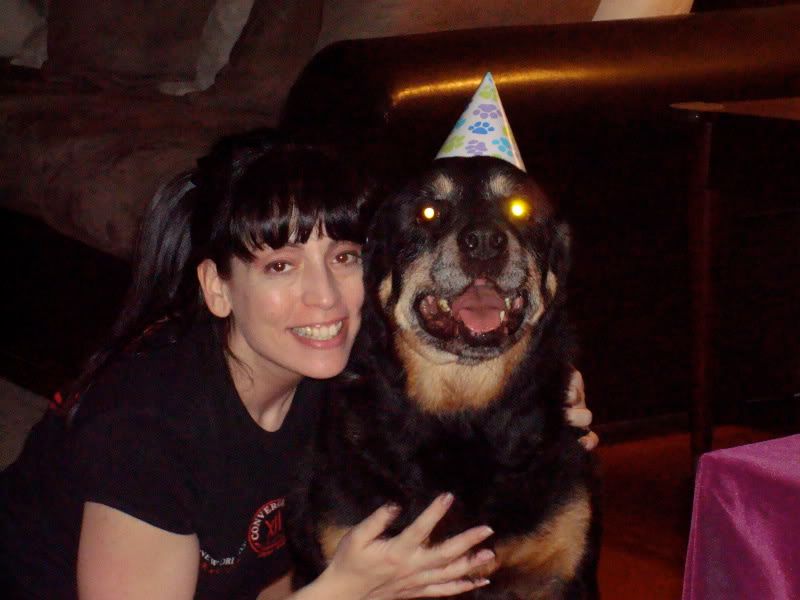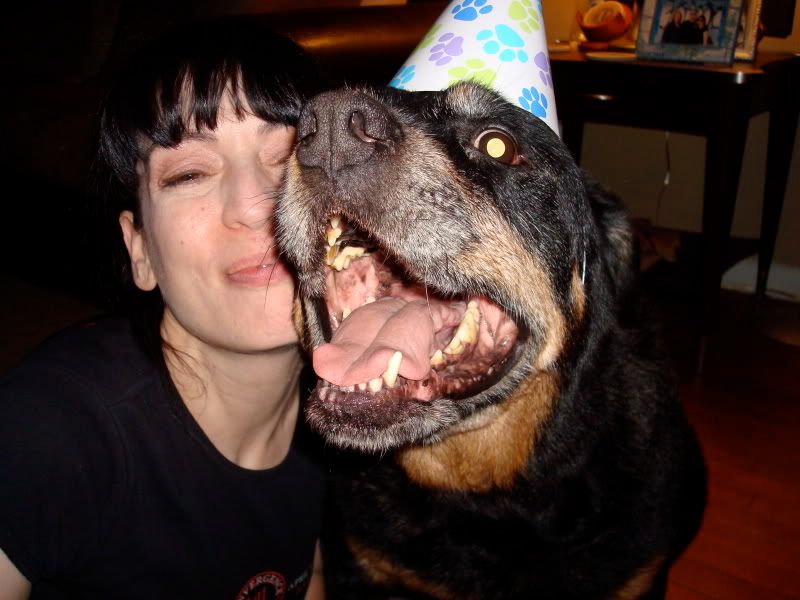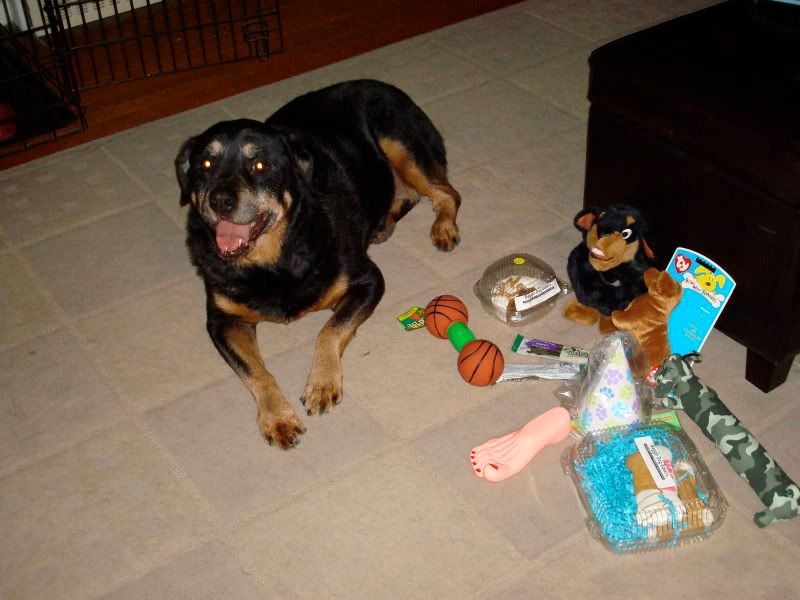 Wednesday, March 11th, 2009
---
7:04 pm
- Kiara's 10th birthday is Sunday
Sean will not let me have a puppy party. So instead, Kiara gets to see the aliens and my brother. At least she'll be happy.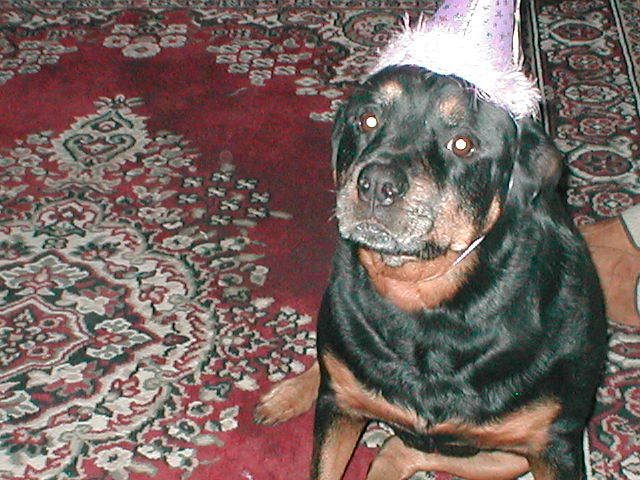 Monday, March 2nd, 2009
---
2:51 pm
- Snow day!
Yay for snow days! Not yay for shoveling out 2 cars while Kiara and Sean watched. But at least she had some fun.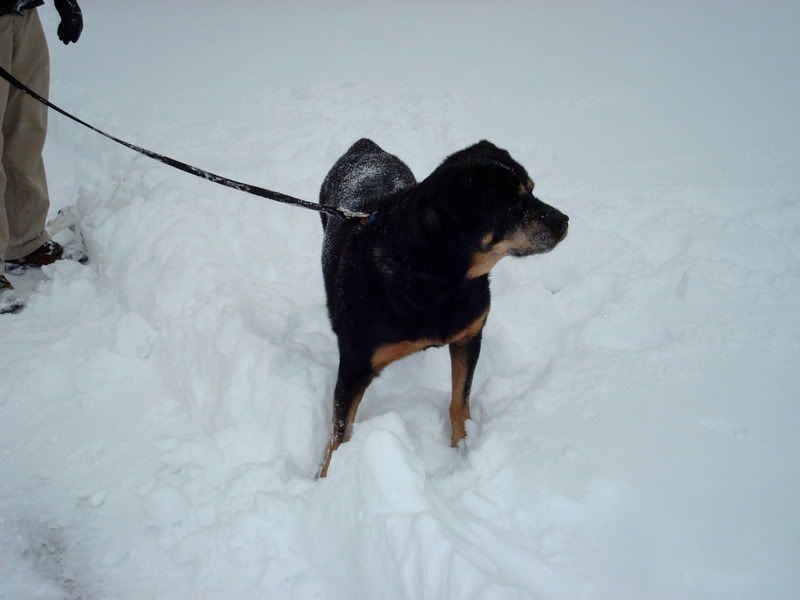 And here she is in action. I cannot believe she's going to be 10 years old in 2 weeks.






Monday, February 16th, 2009
---
5:05 pm
- Red Bamboo in NYC
The food was awesome! Thank you to Aunt Christine for the gc. If she would have never gotten it for us, we probably would have never tried it. Who knew that Ben and Rachel go all the time?
I am glad
manwithguns and
rocktard and
djmerc and his new girl Jaime were able to get together. It sucks that we don't get to see our friends very often.
Thank you all for making me laugh so hard. I haven't laughed like that in a long time.

current mood:
full
Saturday, February 14th, 2009
---
6:06 pm
- I should be
at a parade catching some beads right now. GGGRRRRR!

current mood:
angry
Tuesday, February 10th, 2009
---
7:38 pm
- NOLA is cancelled :)
Wow this friggin blows. You know when there are a lot of things that happen surrounding an event and you go through so much trouble that by the time this event happens, it turns out it wasn't worth doing? Well this is what's happening here.
When we originally booked the trip, we couldn't get a cheap trip out of the NYC area so we decided to fly out of Philly. Why not? We can hang, see a few friends, whatever. OK booked. We were smart enough to take insurance on the air. So Sean has repeatedly tried to call US Air, yes that lovely airline, to get a refund because we took an emergency trip to Tampa when his father died. Well they tell us put in a claim but they don't think it will pass because there is too much time between the death and our trip. Isn't that nice?
Sean then proceeds to hurt his back really badly and is in constant pain. But he swears he'll be better by the time we go to NOLA.
I look at the weather in Philly a couple of days ago and it says snow for the day we leave. Now I'm not happy.
Sunday, my mother had chest pains and was admitted to the hospital because we weren't sure if she was having another heart attack. Luckily, it turned out to be a big nothing, but scared us all anyway.
Sean's back is not getting better. There is no way he can even sit in a chair for long periods of time, forget about walking around all day and night.
And so, we cancelled the trip. This makes me very sad. NOLA is my favorite place in the world.
But, we decided to reschedule the trip for April. And since we figure we'll never get back to Maui at this rate, we are using all our rewards points so the trip will cost next to nothing. That makes me happy.
And one day, after I win the lottery, I will buy my house in the Garden District.

current mood:
disappointed
Saturday, January 10th, 2009
---
7:31 pm
- Going back to NOLA!!!
We're heading back to New Orleans Feb 14-18. Who's going to meet us there?
Saturday, October 25th, 2008
---
3:45 pm
- Reflections
Boredom is a very dangerous thing for me, as is the state of vegetation I've been in for the last few weeks. Work has been absolutely insane for the last few weeks. I am so completely drained at the end of the day, I come home and do nothing. I hate doing nothing. I haven't been to belly dance class in a few weeks as I haven't felt so great those days but I really don't have the energy. That's really bad for me. I need to stick to routines because if I don't, well, let's just say its not pretty. And because I have zero energy I have zero motivation. Have I been learning this software? That would be a big fucking no.
And since today was another day of vegetation, I thought reading some lj's would be a good idea to stop the boredom. I was reminded that today is Ellie's birthday by 2 people. I have read several eloquent posts about her passing. While I believe I'm a talented writer, I cannot write well when my emotions are raw. I come across more like Trent Reznor rather then Shakespeare. So I'll just spit it out.
When I called someone at work Ellie, I knew I still had a lot to deal with. I had a dream about her the day after her wake. I wasn't able to attend her funeral. Perhaps the dream had to do with the guilt of missing it. Actually, I'm positive that was it. The cliche about lighting up a room is overused as far as I'm concerned. However, in Ellie's case it is not a cliche. It is the truth. She would walk in, bubbly and beautiful as always. Just standing next to her could put me in a good mood. Even when she complained about something, which was rare, she was just so sweet I couldn't be in a bad mood when she was around. I was in awe of a woman who was so incredibly beautiful yet so warm.
I feel a great injustice has been done to take this amazing person so soon in her young life. I am angry and depressed all at once. I miss her terribly. And my mind can't help but be drawn to the morbid thoughts I'm thinking. And I cannot stand to think of these things.
Ellie I miss you. I hope you know how much you mean to everyone's life who you touched. I carry you in my heart.
Thursday, October 9th, 2008
---
8:02 pm
- Who's going to Killing Joke Saturday?
Monday, September 29th, 2008
---
8:45 pm
- Delerium tomorrow?
Is anyone going to see Delerium tomorrow in NYC? Let me know.
Saturday, September 27th, 2008
---
3:28 pm
- Kiara needs to stop getting sick
A couple of weeks ago, she had a UTI. Earlier this week, she got fleas. Yesterday, we found she has worms. She has never had worms or fleas, ever. I feel like a terrible mother. I know I've done nothing wrong and I know I take care of her. But these things are just happening all at once. And financially, they're killing me. In the last month alone, I've spent over $500 on vet bills and medication. Maybe if I keep her inside and potty train her, she won't get sick anymore.
Friday, September 12th, 2008
---
3:23 pm
- Yay! Heading back to NOLA!!!
It won't be for a while. But we're booked for New Orleans for February 14-18. Who's gonna be there and cause chaos with us?
8:09 am
- Being sick sucks
I cannot believe I am this sick so early in the school year. Uggh. I think this would be a good time to introduce myself to my new doctor.
Sneezing on him would probably be a bad idea.
Saturday, September 6th, 2008
---
9:23 am
- It's official
I've left Derma-Tek. It's not a personal thing. Joe and I remain friends. It's just time for me to explore different avenues. I have a very varied taste in music and these genres just don't go with Derma-Tek's style.

I'd like to thank all the fans and friends for their support. Please do continue to look out for Joe's updates and new material. And perhaps in the future, some updates from myself as well.